[i

Now unavailable - However an example of some previous work.

I have embraced a medium called Encaustic Wax, which is made up of pure beeswax and damar resin. It is applied to paintings, collage work and substrates, that will withstand immense heat being applied.

Here I have taken a photograph of the Iron Road at the Sculpture trail in the Forest of Dean, applied a couple of layers of the wax, pan pastel colours and additional coloured wax, to bring this autumnal photo into a spring painting.

I wanted to make you feel part of the painting, as if you were there, so I have taken many photos to show you the detail. You will see the scratched out wax on the tree trunks to the right, that are filled in with coloured oil sticks and the additional top layer of coloured wax, bringing the picture forward and the softer tones to the left side of the picture.

There is also the texture of the wax in this painting to look at. It has smooth areas, but I have also created a rough texture to some areas of the sleepers, to give it a more realistic and rustic look and feel; as if you were there.

The Iron Road is made up of old railway sleepers which have been carved. I love the way the wax glided across the photograph, enabling me to add soft tones of pan pastels to create a mysical effect on the left of the photo and the coloured wax enhancing it on the right side.

The photograph is mounted on an 8 x 10inch wooden cradle board and I will include care instructions to ensure you make the most of this beautiful medium and painting. Encaustic Wax takes a year, at least, to mature and must not be displayed in sunlight or very cold conditions, otherwise it could melt or crack.

Take a look in more detail, which is more alive close up, yet subtle from a distance: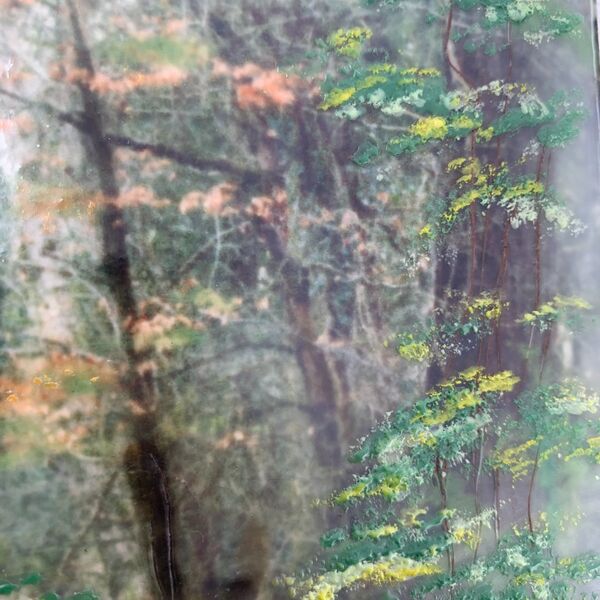 The painting will be sent second class in the UK within 3 days, with free postage.

If you live local to Blakeney, Gloucester then please contact me for a mutual pick up location.

I do not ship international sorry.

Thank you for looking, Paula.

Encaustic Paintings For Sale